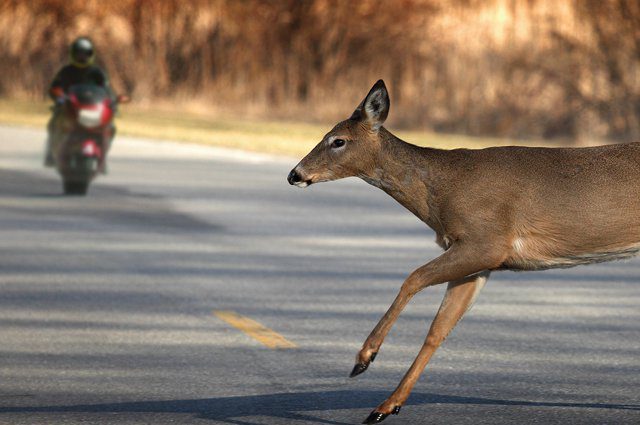 Minnesota is one of the riskiest places in the country for motorists when it comes to colliding with deer. And with Autumn here, we need to be extra aware.  More deer accidents occur in October and November than the rest of the year. 
These tips will help reduce your chances of an animal collision:
Drive at a safe speed and always buckle up. A seat belt is your best defense for minimizing your risk in a crash. An Insurance Institute for Highway Safety study found that 60 percent of the people killed in animal-vehicle collisions weren't wearing their seat belts.
Be aware.Watch for deer especially around dawn and between the hours of 6 p.m. and 9 p.m., when they're most active. Look out for deer-crossing signs and wooded areas where animals are likely to travel. Watch for the reflection of deer eyes and for deer silhouettes on the shoulder of the road. If anything looks even slightly suspicious, slow down.
Use high beams as much as possible at night for improved visibility, especially in deer-active areas.
Brake, don't swerve. Swerving can cause motorists to lose control and travel off the road or into oncoming traffic.
"Where there's one, there's usually more" often holds true. Deer travel in groups, so if you see one run across the road, expect others to be behind it
Don't rely on deer whistles. These devises were invented to deter deer from crossing roads but the efficiency of them is debatable. Never assume they will work.
Deer do unpredictable things — they stop in the middle of the road, cross and quickly re-cross back, and move toward an approaching vehicle. Blow your horn to urge deer to leave the road. Stop if the deer stays on the road, don't try to go around it.
Motorcyclists: If possible, avoid night and low-light riding periods. A rider's best response when encountering a deer is to use both brakes for maximum braking and to keep your eyes and head up to improve your chances of keeping the bike up. Riders are encouraged to wear full face helmets and full protective gear to prevent injury or death in a crash. High visibility gear can assist other driver's in seeing you better; whether it's while making an evasive maneuver to avoid a deer or laying on the roadway after impacting a deer.
If you hit an animal, move your car safely off the road and call the police or animal control. Don't attempt to touch an injured animal. Photograph the scene, then call your insurance company when you get home.
Vehicle damage from an animal collision is covered under your auto policy's optional comprehensive coverage. This means that if you only have collision coverage or liability coverage, your insurance carrier likely doesn't cover vehicle damage stemming from an animal collision.
Contact your agent or carrier to make sure your vehicle is covered or to discuss adding comprehensive coverage to your policy if you don't have it.
Stay safe and stay aware!