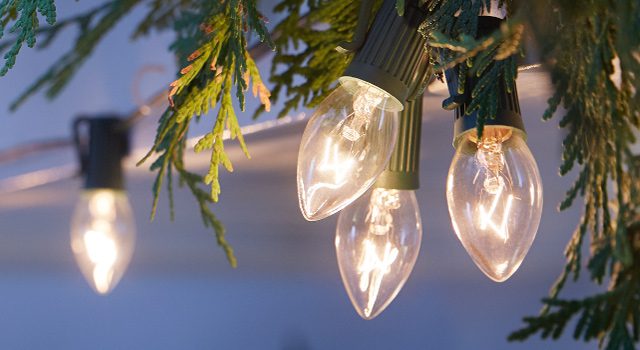 It's that time of the year where people are pulling out their Holiday Lights and getting ready to start their decorating. The holiday season is a magical time, but it can also be a very dangerous time.
According to the National Fire Protection Association, U.S. fire departments responded to an average of 160 home fires per year caused by Christmas trees between 2013 and 2017, 44 percent of which were started by electrical distribution or lighting equipment. These tree fires resulted in an average of 3 deaths, 15 injuries and $10 million in property damage annually.
A live Christmas tree burn conducted by the U.S. Consumer Product Safety Commission (CPSC) shows just how quickly a dried out Christmas tree fire burns, with flashover occurring in less than one minute, as compared to a well-watered tree, which burns at a much slower rate.
Check Light Strands
Before hanging on your house, wrapping around your Christmas tree or lighting up that garland on your mantle, check for frayed ends, cord cracks, broken sockets or loose bulb connections. If you notice any of these dangers, dispose of the damaged strand and buy a new one.
Extension Cord Use
NEVER remove a grounding pin in order to fit into a two-prong outlet.
Too many electrical devices hooked up to one outlet can overheat, which may cause a fire. As a general rule, limit your use of extension cords to no more than three in one outlet.
Check your extension cords, as they can occasionally overheat. touch-test the cord. If it's hot, unplug it.
Responsible Tree Care and Placement
Whether you have an artificial or real tree, be sure to place it a safe distance from a fireplace and other open flames, radiators and lamps.
Keep your tree well-watered. The combination of electric lights and a tinder-dry tree can be deadly.
Keep a fire extinguisher nearby.
Christmas Lights Are Not Forever
Modern lights have fused plugs, preventing sparks in case of a short circuit. Invest in your safety and replace old strands of lights.
Replace incandescent with LED lights. Unlike incandescent bulbs which generate most of their energy in heat, LEDs are cool to the touch (and energy saving!).
If you don't have LED lights, try to use the cooler-burning mini lights as opposed to the traditional larger bulbs. The older-style bulbs often emit enough heat to ignite dry tree needles and other flammable materials.
Never Hang Christmas Lights on a Metal Tree
The tree can become charged with electricity and shock someone.
It can also short out the lights and cause a fire.
Buy Correct Replacement Bulbs
If bulbs have burned out, replace them right away.
Be sure you are using the correct wattage.
Plug Outdoor Lights into a GFI (ground fault circuit interrupter) Outlet
Use Insulated Hooks or Staples to Hang Lights
Don't hang lights using tacks, nails or screws, which can pierce the cable and become electrified.
Keep Plugs Off of Ground
Take care to elevate plugs and connectors with a brick, to keep snow, water and debris out of the connections.
Prevent Tripping Hazards
Tape down any ground-level extensions cords and never hide under a rug.
Look for Holiday Lights with a UL Safety Certification
Some Christmas lights will include a UL Safety Certification, meaning that the lights have been designed and manufactured to meet industry specifications for safety from

Underwriters Laboratories

(UL), an independent product safety certification origination.

Lights that have these certifications will be safer to use in your home, compared to lights that don't have this certification. If your current lights don't have the UL Safety Certification, you might want to invest in ones that do, especially if your lights are older than a few years.
Buy Appropriate Lights for Usage
Not all lights are rated for outdoor use. Indoor lights often have thinner insulation, which can become cracked and damaged when exposed to the elements outdoors. Make sure the ones you string up on the house belong out there.
Never Drape Anything Over a Light Bulb or Lamp Shade
The heat from the light bulb can ignite
Shut Off Lights When You Go to Bed or Leave the House